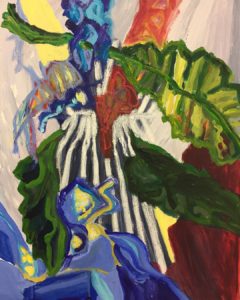 Jennifer Tobias is an Interior Designer, Painter, Retail Stores Owner (1989-2012), Writer and Attorney.
Artist's Statement:
"I work in acrylic and oil paint, along with oil pastels. Most of my work is representational; I either start with an actual image, or imagine one, but the exact reproduction of the image is never my goal. I seek to explore the emotional tone of the image, through saturated color and stylized form. Abstract works start with free forms and movement. I do not limit abstraction to pure form, but rather enjoy discovering the unconscious representations that derive from laying down the paint."
Jennifer  works both in Chicago (Greenleaf Art Studios) and Michigan (Ten Blossom Studio, Old Mission.) Her background is in languages, law, interior design, and the creation and ownership of home decor stores. Jennifer has studied at Palette and Chisel, Old Town Art Center , The  Art House and Lillstreet Art Center (Chicago,) and with Elizabeth Pollie (Harbor Springs, MI.) Work reflects places in Jennifer's life, from native South Dakota, to Michigan, Chicago and Southern France. A strong affinity for nature, light, color and humor play out in her paintings.
Interior Design work available both remotely via consultation, and on site.
To purchase artwork, please  contact Jennifer directly, at jtobias3902@gmail.com.